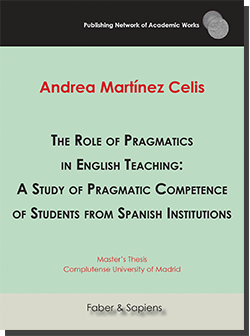 The Role of Pragmatics in English Teaching: A Study of Pragmatic Competence of Students from Spanish Institutions (Andrea Martínez Celis)
SKU 0AHY57S
Product Details
The number of speakers and learners of English increases every day. Spain, and particularly Madrid, where bilingualism has been making its way into educations for the last decade, is the scenario in which this study has been carried out. Even though the hours of English classes have increased, language teaching methodologies appear not to be updated and adapted yet to the new world and the new role of English. This can be observed in international situations in which misunderstandings take place very often due to the lack of pragmatic competence of the speakers. The aim of this paper is to
assess if linguistic and pragmatic competences are learnt simultaneously and unconsciously or if, as hypothesized, pragmatics needs to be integrated into language courses. For this purpose, near one hundred and a half students from two Spanish educational institutions were asked to fill in a questionnaire in which they had to answer to several linguistic situations in which pragmatic failure is likely to happen. The theoretical framework which this study draws on as well as the results obtained support this hypothesis.
Andrea Martínez Celis is a Visiting Professor in the Department of Financial Economics and Accounting and Modern Languages at Universidad Rey Juan Carlos. She is also a predoctoral researcher in English Linguistics and an Honorific Collaborator in the Department of English Studies at Universidad Complutense de Madrid. She holds a BA degree in English Studies and a Master's degree in English Linguistics from the same university. In her Bachelor studies, during her stay at University of Sussex, Brighton, she became interested in the topic of forensic linguistics and, more specifically, on the analysis of suicide letters carrying out a linguistic analysis on Virginia Woolf´s suicide letters. During her Master's studies, switching to a new field of research, she focused on the role of pragmatics in English teaching and learning. Currently, following her works in this field, she is doing a PhD about the role of intercultural pragmatics in the internationalization of university.

Título: The Role of Pragmatics in English Teaching: A Study of Pragmatic Competence of Students from Spanish Institutions
Autor: Andrea Martínez Celis
Tipo de trabajo: Trabajo de Fin de Máster
Universidad: Universidad Complutense de Madrid
Director: Carmen Maíz Arévalo
I.S.B.N.: 978-84-17574-84-0
Colección: Faber & Sapiens
Páginas: 120
Publicación: 2019
Precio eBook: 6.00 €
Precio libro: 19.00 € (incluye eBook en compra on line)
Formato electrónico: PDF-DRM Adobe
Formato físico: papel, fresado
Tamaño: 15,50 x 21,00
Edición: 1.ª edición
Clasificación IBIC: EB : ELT: MATERIAL PREPARATORIO Y DE CONSULTA

Save this product for later